SAT
---
Turbocharge your SAT with ManhattanTest ®
Manhattan Review's SAT courses are designed for SAT test-takers at all levels to improve their SAT scores within a short time period. They prove to be particularly helpful for students who are aiming for 1500+ SAT scores.
Study with the Most Advanced Learning Process
Manhattan Test ® SAT: Score Boosting Strategy & Diagnostic Tests
---
Choose Your Course
Verbal Intensive: 80% Critical Reading & Writing + 20% Math
S-LABS: Special Labs for Critical Reading with special emphasis on speed & strategy
---
Our Diagnostic Pyramid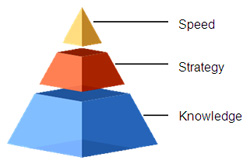 ---
Our Advanced Learning Sessions
Our SAT course provides a comprehensive and thorough approach to targeting all tested concepts in the SAT. The course also includes all the grammar review and idiom lists which non-English native speakers may find useful. This course presents a great balance between in-depth studies and challenging SAT problems. The course content covers the followings:
Critical Reading strategies for both long and short passages
Concentrated help for writing a near-perfect SAT essay
Extra coaching in arithmetic, algebra, geometry, statistics, and math word problems
Upper-level vocabulary lists
Useful math formulas
---
ManhattanTest – Our Difference!
We offer S-Labs to help students improve speed and accuracy in test taking. Some of our students have improved their SAT to achieve SAT 2360 after completing just a few sessions of our SAT course and Review Session. We acknowledge that each student is different so the S-Labs and Review Sessions are designed to help students who may need extra help.
​
Please feel free to contact us. Tel: 02 652 0878 or 081 302 0992 www.ManhattanTest.com
---
Individualized Feedback
Each of our students will receive an assessment from our SAT Master.
---
SAT Smart Course
80% Critical Reading & Writing + 20% Math (Includes S-Labs and Practice Review)
Sep - Dec 2023
Weekend Course


11 Nov - 16 Dec 2023
Saturday - Sunday
9.30 am - 12.30 pm
Total 33 hours



Weekday Course


28 Sep - 22 Dec 2023
Tuesday - Friday
4 pm - 6 pm
Total 32 hours
Price 21,900 BHT (excl. books)
Private and Small Group Tutoring available!
Contact Us Today.

Additional Benefits for Manhattan Test's Student. All SAT lessons are recorded, so if students are unable to attend a lesson or would like to review a lesson, they are able to watch the SAT videos for up to four months after their course.
Are the SSAT and SAT Subject Tests (SAT II) taught?
Yes, we teach the SSAT and SAT II in the private tutoring and small group format. Please contact us for more information.
---
Our SAT Master
"Many"
Many completed both bachelor's and master's degrees at Stanford University. She achieved SAT 2200: SAT Math II (800), SAT Chemistry (800), and SAT Physics (800) - perfect real scores on subject tests. Many won King's Scholarship and will inspire other students in the pursuit of academic excellence.
"Rut"
Graduated from Chulalongkorn University with a background in science, Kru Rut has embarked on her teaching career with specialization in GMAT, GRE, SAT, IGCSE, GED, CUTEP, CUAAT, TUGET, and GAT. With 7 years of teaching experience, Kru Rut will bring her techniques to boost students' scores.
"Jamie"
Jamie completed his degree in English and Biology and taught at middle & high schools in the US before. He masters his skills in SAT I and SAT II and can share SAT test-taking techniques to students.
---
Our Instructors
Expert SAT Master: Our Stanford and Ivy League instructors have over 13 years experience teaching the SAT in the US and Thailand. Instruction is in English only.
Please feel free to contact us. Tel: 02 652 0878 or 081 302 0992 www.ManhattanTest.com
---